---
Advanced Media Restoration

Mixdowns, remastering, remixes and digital editing
With digital audio on the internet now the predominant form of music sales, it's never been easier or a better time to re-issue, re-master and commission remixes of recordings. Once your data has been transferred, there are many options open to you. We have the ability to digitally re-master your recordings and also compile albums for production or distribution. Re-mastering can take place from the stereo (or mono) master tapes, or from multi-tracks. Multitrack data can either be taken and mixed by yourself, or you can call on our decades of experience and allow our engineers to bring the mix down into the 21st century.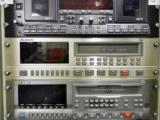 With traditional studio practices, recordings were limited by the physical number of processors in the studio. Now with digital techniques, every sound can be enhanced to an unbelievable level compared to even ten years ago. With the right knowledge of production techniques and re-mastering, it's often quite straight-forward to make archive recordings compete on a level with modern production, with the ability to correct decades old mistakes like a guitar string being slightly out of tune as well as the possibility of quantizing a rhythmically challenged vocalist! You can even produce the session remotely from the comfort of your own home or studio to get exactly the mix that you want, using a remote desktop application with high quality audio streaming directly from our Manchester studio.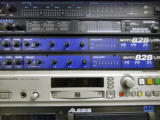 Our studio is perfectly setup to over dub new parts on transferred recordings, new guitar licks, synth lines or vocals and instrument parts using our wide range of mics, including a vintage Neumann U87. We have an extensive collection of Virtual Instruments and Sample Libraries, including Native Instruments Komplete 8 Ultimate, so realistic sounding parts in a variety of instruments can easily be created without having to find a costly session player! Monitoring in the acoustically treated control room uses Adam A8X and Neumann KH120A's monitors with a Mackie HRS120 Subwoofer.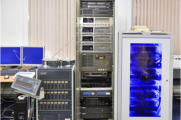 AMR Studios have produced many tracks and remixes, including the Break The Noize & The Autobots remix of Modestep's "ToTheStars" which has to date had over 11,000,000 Youtube plays and was Youtube's most popular music video for almost a week. Modestep were so impressed by the remix that they now perform a hybrid version of the original and remix in their live shows:
Unit A3 Copley Mill
St.Pauls Trading Estate
Huddersfield Road
STALYBRIDGE, SK15 3DN
T: 07718 635889 (Fran)
advancedmediarestoration@gmail.com
Follow us on Twitter @AMRStudios
---
*AMR Studios is a trading name of Advanced Media Restoration Ltd
---